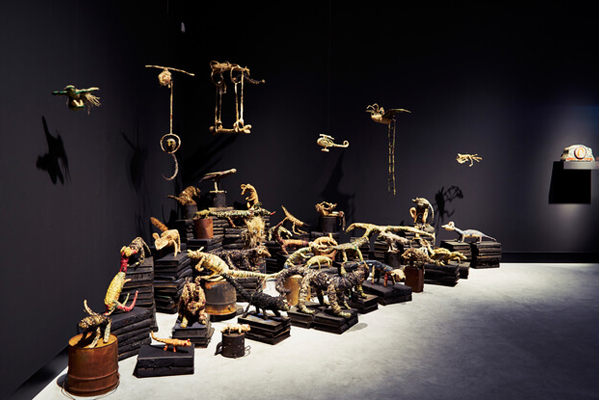 Australian Pavilion 2015
Working closely with artists and curators, the Local Project Manager Diego Carpentiero and the Australian Council for the Arts for the site-specific exhibition Wrong Way Time by Fiona Hall at the Australian Pavilion in Venice. Wayfinding Design for the installation.
Fiona Hall
Wrong Way Time
Australian Pavilion
56th International Art Exhibition
La Biennale di Venezia
9 May – 22 November 2015
"In her installation Wrong Way Time, Fiona Hall brings together hundreds of disparate elements which find alignments and create tensions around three intersecting concerns: global politics, world finances and the environment. In common with many of us, Hall sees these as failed states, as 'a minefield of madness, badness and sadness' stretching beyond the foreseeable future. Hall's lifelong passion for the natural environment can be felt intensely in works that respond to our persistent role in its demise, or to the perilous state of various species.
Hall's seemingly random conjunction of things in a wunderkammer-like installation appeals to our human impulse to make connections, or perhaps a propensity for paranoia born of the deep uncertainty and fear of our times. Yet despite a prevalent darkness, Hall's exhibition is fundamentally life-affirming, its own vitality in perverse distinction to the subjects it ranges across, which provide rich pickings for Hall's extraordinary transformation of materials, images and objects."